As expected, the new flagship Galaxy S5 supports Bluetooth LE connectivity thus putting the world on notice that iBeacon technology isn't just for Apple.
KitKat Drives Bluetooth LE
The new device updates the operating system to Android 4.4.2 (KitKat) and thus unlocks access to the phone's Bluetooth LE capabilities. The version of the operating system that your Android phone runs on is the major factor in whether it easily supports the detection of beacons.
Most recent handsets have had Bluetooth LE support but the technology hasn't been easy to tap into because the Android operating system didn't support it until KitKat. This is comparable to Apple, whose phones supported Bluetooth LE at the time of iOS 6 but didn't release an easy-to-use software SDK until iOS7.
Most of the major Android carriers will eventually move to the KitKat operating system (although Nokia this week was a notable exception, sticking to version 4.1.2 with Nokia X).
While the term iBeacon has become synonymous with beacons, it's really just a brand name for beacons whose Bluetooth LE deployment conforms to Apple specifications. But because Bluetooth LE is a standard, labeling a beacon as an iBeacon doesn't preclude it 'talking' to Android devices.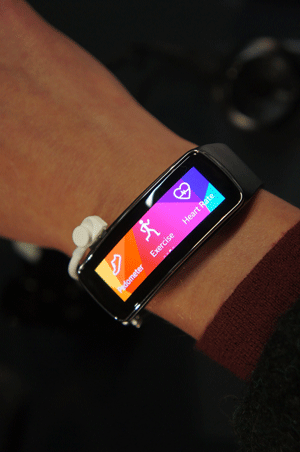 Samsung Puts a Watch On It
But what's perhaps more intriguing about the launch of the S5 is its focus on fitness. With the companion launch of the GearFit watch, Samsung is placing a bet on health and fitness as perhaps the true proving ground for Bluetooth LE.
The Register notes that Samsung is looking to court developers – perhaps shifting the emphasis of Bluetooth LE and connectivity from the wall to the wrist.
Which perhaps explains the rumored Flybell trademark for its own version of the iBeacon specification: a name that doesn't inspire you to think about beacons on the wall, but might inspire you to think about running or fitness or, well, flying along.
With the Galaxy we have proof that Android isn't being left behind in unlocking the potential of Bluetooth LE – and that being an open specification it will have as many use cases and interpretations as there are phone makers.
Give Us A Follow
Join our weekly e-mail list for more on iBeacons. Check out our Twitter list to follow the best beacon tweets (or follow me). Check out our BEEKn Google page and just generally stay in touch!